A delegation from Ro'aya Center for Studies and Researches visits Aisha Association for Woman and Child protection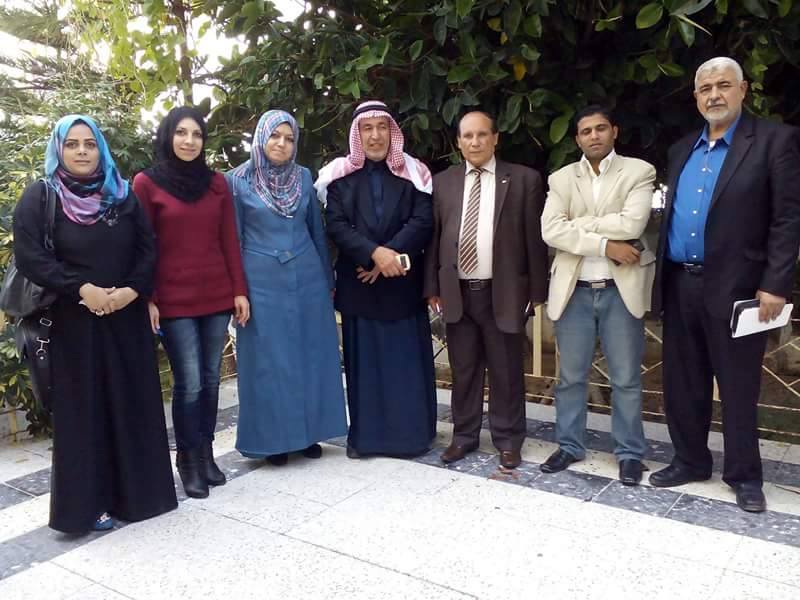 A delegation from Ro'ya center visited Aisha association for woman and child protection on last Wednesday 18/11/2015, the delegation included the director of public relations and media Dr Fareej Adel Muhanna and the journalist Neveen Azeeza, the chief Awad Qandeel and the chief Abu Rami Abdelhady and a number of center's volunteers performed Palestine chiefs association. The executive manager of Aisha association Reem Omar Freena and the engineer who is the manager of projects Maryam Abu Al Atta welcomed them.
Muhanna said '' this visit is to apply the center plan and searching the ways of encouragement of voluntary work between the community classes and organizing, enhancement of mutual cooperation in the field of psychological and social supporting and make a workshops''
In addition, the delegation talked about Aisha association for woman and child protection role and what it do from humanitarian and social activity, he asserted that the association touched the suffering of the citizens and its effects still existed in every Palestinian location and home, appreciating the efforts that done by all staff to maintain citizens service.
The engineer Maryam Abu Al Atta appreciated the visit of the center and their support for them , she presented a detailed explanation about the reality of the association and its preparations and programs that offered by the association with all foundations works to help the citizens and support them.